21st of December 2012
Late December, on a frosty morning in Leeds. Everyone is waiting for what is being labelled as judgement day... Fans, media and the news are all waiting patiently as a press conference is called by chairman Ken Bates. The new company involved, GFH are fronted by Salem Patel and new acting chairman David Haigh. They call for change at the club and confirm that they have bought Leeds United AFC for £52 million. Many questions are asked by both the media and news crew.




Their first ever media conference and straight away they come out with "We are going to get Leeds United back to where they belong" They answer questions about how the club was sold to them and come out with they bought us with cash. Patel and Co promised to give Neil Warnock all the time, backing and the money to turn the club around. They promised to buy back the stadium and our facilities. They promised to lower ticket prices and season tickets, and much much more...

Rise and fall of Neil Warnock

Upon his arrival at Elland Road, things started pretty brightly under him. But slowly and surely, bad results starting turning things against him, and fans were starting to doubt him. Even more so now that GFH came out and said there wasn't much in the clubs budgets for transfers. Neil Warnock came out with a statement just after the transfer window shut, basically saying that the players he was after he just couldn't afford their wages or the inflated fees from the clubs asked. To which Becchio was sold to Norwich City, Leeds United's top goalscorer. This again has angered many fans and really asked the question, was it the board? Or was in the man himself that just couldn't work under Neil. We will never know what really happened, but Becchio's confidence in his manager has dropped. Results not going Leeds' way and the way Neil apparently sets out his teams, fans and players now believe that his time is up.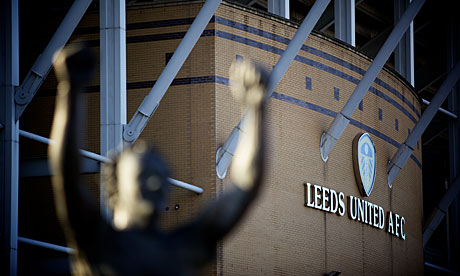 Distant chants from the Kop end to "Time to go" and "We've all had enough" were being sung each game. Fans now getting on the back of the players as well as our manager. And results have just got even worse under Warnock. Fans now calling for his head, but is it really just Neil that we should blame? What is really happening behind closed doors for such a potentially great club to be doing so badly? I ask myself, is it really the boards fault for not giving Warnock what he really needs? I am the first to say that, they haven't backed our manager, they have lied and covered things up from the very beginning.

What happens now?

GFH have come out recently to say they have "rejected" a substantial offer from former Hull City chairman, Adam Pearson. He has come out just after this offer was rejected, claiming that he wanted a stake of up to 52%. In which he could in the future do a "full takeover" This in GFH terms is not what they want, something which I think the club needs. They have recently come out to say that they are still planning for investors in the near future. Something which is needed at Leeds United ASAP.

With so much happening at my club now, many managers have been linked to the job in August. Neil Warnock's contract is up in the summer and it's really not looking likely the guy will stay. He has also come out saying that, he misses his family who are 300 miles away. So this again is another reason why I feel time is up for him.




GFH have now announced that they have "approached" former Southampton manager for the position as manager. Now what happens now? He has come out before and said that he wants to get us to where we belong. But will he come? That is the big question that I hope will be answered very soon. I'm not sure it's always wise to keep swapping managers, but I feel that it's time to say goodbye to Neil. Thank you for all you have done for us but it's time you bought yourself a yacht and went somewhere very far.

Final thoughts

Well I know again this season we won't be going up. But something has to be done now, and selling our decent players is NOT the way forward. We need a manager who can work with a tight budget and know not only what he really wants, but how to get there too. Every candidate for the managerial position knows that we have hardly any money but the most passionate fans you would ever want to meet. I hope that in the future we do actually own our stadium and Thorp Arch. Decent memories of what life was like when we sold everything off many years ago. This must never happen again for I would rather they build a team for the future, rather than buy talent now and then in the future go bankrupt again.

Clubs need to look at what happened at us before delving into buying players and giving out silly wages. I truly hope that this never happens to any other club as I know just how bad things can get. Portsmouth are going through this right now, but that's for another article. I hope you enjoyed my thoughts and opinions on this topic

Thanks to google for the pictures